Enabling remote connectivity with a Smart Home Platform
Smart home service subscribers are spread across the world.
The developed markets provide DIY kits to jumpstart a smart home service. This includes smart devices, with installation guides, configuration manuals, access to the developer community for enhancements, and other customized connectivity options.
No matter how matured your consumers are, there are many instances that need on-ground deployment. For every small fix, deploying field technicians is expensive. For instance, it would be inefficient for ISPs to send someone to the field for a simple reboot instead of administering the issue remotely.
Empowering remote support staff with an Operator Console
COCO provides remote connectivity as an inherent feature through its smart home platform. The platform comes with an in-built operator console that is designed to manage apps, devices, networks, and pricing plans, remotely.
The Manage-the-Buzz portal (operator console) enables remote administration and resolution of customer grievances. Its support, sales, and administrative features can be scaled for different enterprise needs.
Features of Manage the Buzz

An Operator Console for Smart Home Service Providers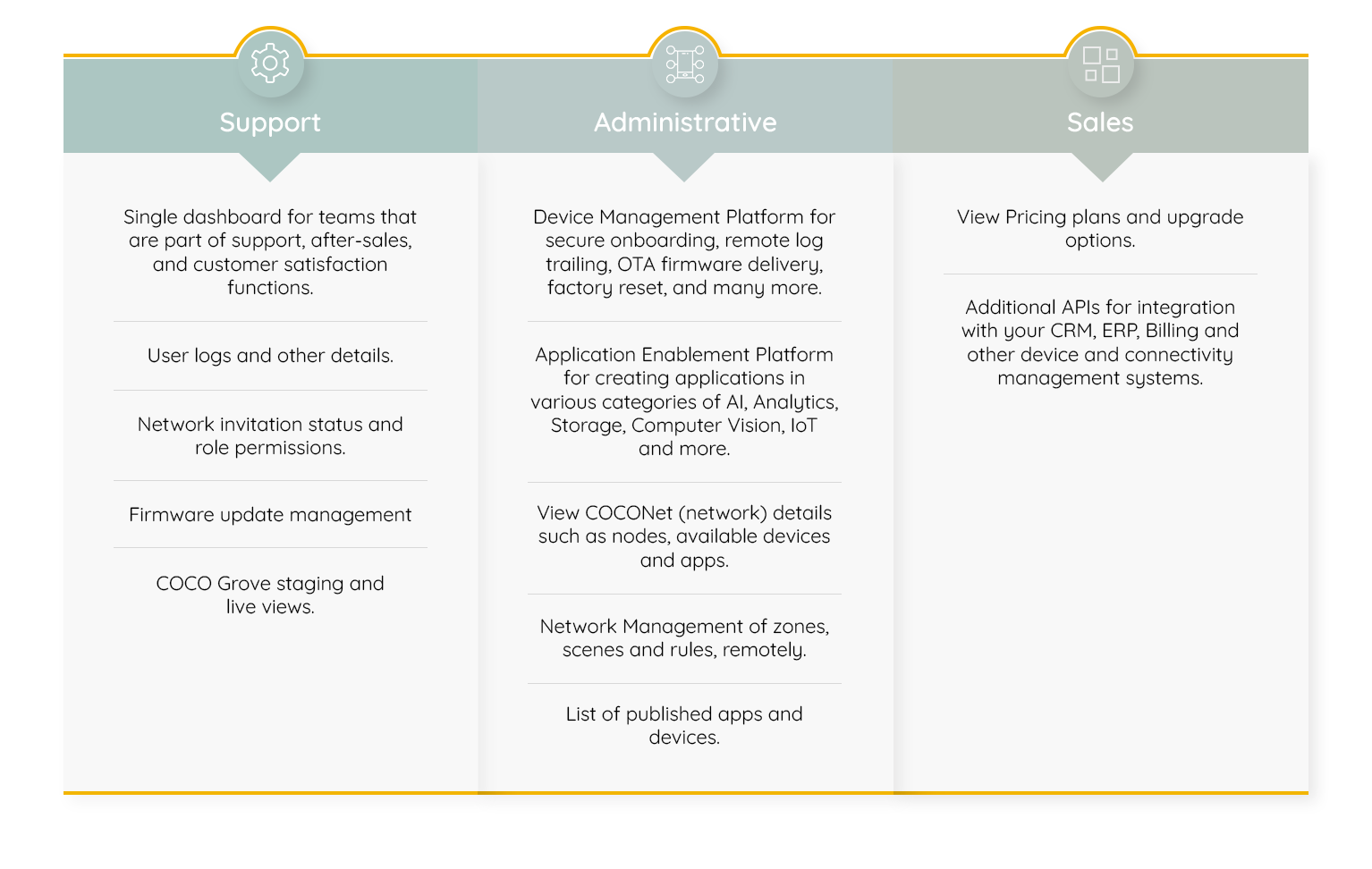 The service provider console also allows you to scale and manage end-to-end customer experience. It enables remote administration for your after sales support teams. Built in app-view so that your team can provide effective and swift support to your subscribers via the Manage the Buzz portal.

Use Additional APIs for integration with your CRM, ERP, Billing and other device and connectivity management systems.
We care about Privacy too
COCO is a designed-for-privacy technology with in-built security and encryption, promising user anonymity.

Service providers need to comply with privacy laws and regulations. This brings us to explore whether storage on devices or storage on cloud is a better option. How can a Smart Home platform facilitate tuning into privacy at different layers of customer experience? Read Further