Use case: Healthcare at Home and Assisted Living Made possible with COCO
IoT in healthcare has been an interesting topic for pharma management, hospital owners, drug distributors, and surgeons. But, real healthcare seeker lives in individual homes. There are many solutions that COCO's IoT platform delivers for home dwellers in their smart home.
To deliver home healthcare using IoT, what do you need?
Your IoT system should be able to deliver commands, provide processing and reporting engines with two-way real-time interactions, notification engine, rules engine, user interface simplification, cluster, and group creation. These together form the common building blocks of an IoT system. Majority of the connectivity is common in healthcare, but there is a reasonable portion that needs customization. COCO provides such exclusive customization too.
Healthier Smart Homes: IoT use cases for healthcare with COCO.
COCO lets you choose the hardware or bring your own; use the technology and SDKs to launch a healthcare IoT bundle in the fastest and cheapest way possible. Some healthcare use cases you can get started off-the-shelf without heavy investment are listed here.
Care for the elderly
There is an increasing global demand for ambient assisted living among smart home users. With loved ones staying away from their family, looking after the elderly has become a necessity. Using COCO, your customers could connect security cameras that can communicate with motion sensors about fall detection, fitness tracker about vitals, panic button in case of emergency, and a security keypad to avoid the use of apps and a smart app for the caregivers.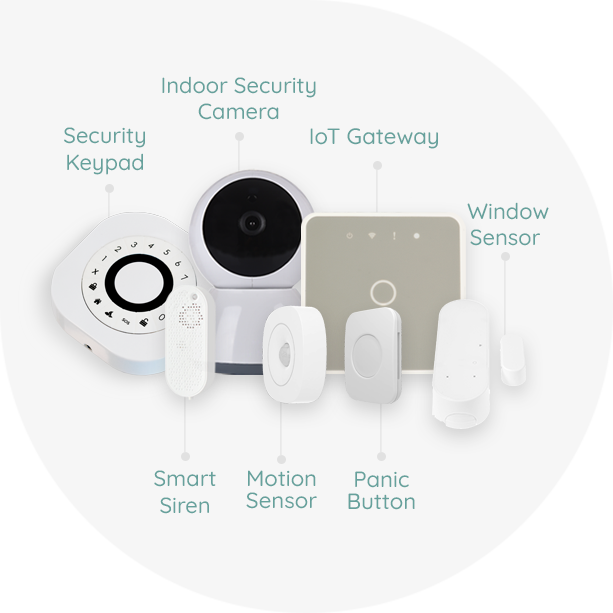 COCO provides remote and offline connectivity. This allows the caregivers to receive updates, alarms about anomalies, or communicate with the person being treated.
Patient-provider communication privacy
Many governments by law encourage and support confidentiality between the patient and healthcare provider. With data leakages in the world of the internet, there is always room for privacy being compromised.
Chat applications developed with COCO technology are designed for privacy with in-built security and data encryption. It also allows for anonymity, allowing patients to refrain from revealing their identity to service providers.
Clean and safe indoor environments
The young and the elderly are often vulnerable to allergic reactions and chronic infections. Due to irritants and particles in the environment, the health could be compromised. Smart health bundles that address fundamental healthy environments include the air purifier, temperature sensors, and heat sensors, integrated into the IoT gateway.
After a clean up administered by a smart vacuum cleaner or any integrated cleaning system, an indoor environment upkeep solution can monitor the quality of air and surroundings for you.
Medical Asset Performance Management
Medical devices 'Buzzed on COCO' interoperate with other smart devices over a mesh network. Any of the exclusive bridge COCO apps allows both the patient, healthcare provider, and the family caretaker to monitor the performance of medical assets used for a scenario.
Remote patient monitoring
For healthcare providers and their patients, remote monitoring is a sigh of relief. The patients do not have to visit the clinic or hospital often. Both enjoy proactive communication with the ability to monitor health updates remotely.
These include some of the existing solutions that COCO can offer, including camera-based solutions, health tracker apps, panic buttons, and so on.
For a customized healthcare use case, reach out to us at coco.mail@elear.solutions