Understanding the Role of IoT in Home Automation
The idea of IoT has been to deliver convenience, comfort, security and other similar better living value propositions.
But, that's not what happened. Let's rewind.
Traditional appliances, though not smart, created a raving consumer demand. The function of each device was equivalent to the final value the consumer received (Function = value). For instance, a washing machine washed clothes and a doorbell rang when someone pressed a button.
We connected appliances with sensors to the internet – the lack of market acceptance has proved that there is absolutely no value in just connecting my washing machine to the internet to get a push notification on my phone when a simple buzzer would do the trick.
Instead there is value if my washing machine could connect directly with my energy meter and understand the best time to schedule a wash and send me a reminder to put my clothes in at a specific time keeping the lower energy bills in mind.
You will not be rewarded by the market with a premium if you randomly connect things to the internet to create an IoT enabled product.There is consumer value only if everything gets connected in a unified network – we call this the network of things.
Network of Things
A network of things is a common unified network where all devices can talk a common language. We call it the COCO Standard. Using the COCO standard language, all devices on the COCO network can share resources data and create rules for automation to fulfill tasks across the entire network.
Given that COCO is an IoT platform, it provides the middleware layer that enables applications and devices to become protocol agnostic. For e.g. using the COCO middleware, enables the COCO App (available for whitelabel) to communicate seamlessly with Zigbee, Z-wave, WiFi, BLE, LoRa, 3G/4G/5G/NB-IoT and Ethernet devices without any hindrances. This enables COCO IoT platform to become the layer that enables the Digital Living platform for our customers.
COCO — Internet of Every Thing
COCO has already built a 'network of things' ecosystem through its platform

Brand- Agnostic: Interoperable with all Smart Things
Connect routers, set top box, door bell, voice assistants, security cameras, gateways, wifi Sensors, into a unified Network of things that can communicate with each other over both the internet and intranet. Applications built using COCO and devices Buzzed on COCO are interoperable with all Smart Things. COCO works with over 2000 Zigbee, Zwave and Bluetooth devices.

Customizable Private Home Networks
COCO uses its P2P architecture and provides the infrastructure for smart home consumers to create private end-to-end encrypted networks at home and work. With the free COCO Smart Home app, consumers can add and delete other users on their network, devices and apps in-use, create routines, and private networks.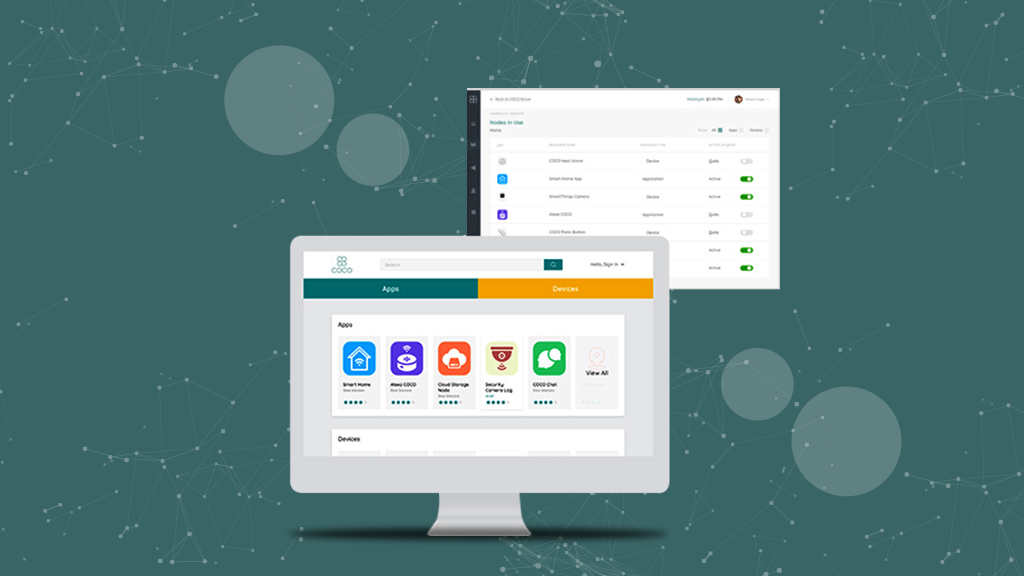 IoT App Store
COCO Grove, an exclusive IoT app store that showcases apps which can be extended to enable other B2B and B2C service opportunities.
What does this mean to smart home consumers?
A multi-brand, seamless customer experience using a single unified app. Smart home consumers get the power to choose a home automation of their preference that can be truly customized to personal budget and taste. Smart home consumers who seek a network of things also opt for real-time data access at high speed which is secured.