Isn't it Time our Homes turned Smart?
Isn't it time our homes turned Smart? Devices can probably be smart by themselves. But to make a home smart, they should be able to communicate with each other. Not just that, but also with the entire smart home ecosystem. A smart home ecosystem includes everything smart! Apps, devices, networks, middleware and everything that works in the background to make a home smart.
What's in it for CSPs?
ARPU. CSPs from around the world recognize that just selling the traditional voice and data bundles is not enough to increase the topline. Certainly, a strong focus on operational efficiency is the key for any telco to improve their net margins, but to continue to stay relevant with the consumers, they need digital services in adjacent markets like IoT and Smart Homes.

From the consumer point of view, smart devices alone are not enough to make the home smart. Consumers need smart networks. They need their 5G, NB-IoT, LTE-CatM1, Wi-Fi, Bluetooth, Zigbee, or Z-wave devices to communicate with each other seamlessly. They need solutions that solve their problems that are unique to each target market. And, that presents an opportunity to CSPs to build smart home solutions and differentiate from the Silicon Valley pack, by creating locale-specific customizations.

But, to build and deliver such customizations needs a Smart Home Platform that can solve the problems of interoperability, data connectivity with security, ready-to-launch home automation kits, and to empower smart home consumers the independence to choose from among a wide range of smart devices and apps that can work in unison.

While some CSPs have chosen to build this in-house, the TCO (total cost of ownership) is too high and time-consuming. Instead, by using a Smart Home Platform like COCO, CSPs can leverage the effort put in by our engineering team, and enter the market with low upfront investment and launch their locale-specific digital services in just 4 weeks.
Edge AI-enabled Smart Home Platform
COCO as an Edge AI-enabled Smart Home Platform is a middleware that generalizes the development of bespoke smart home solutions and AI-based digital services.
Device SDKs for interoperability
Device SDKs allow service providers the flexibility to choose the hardware from various OEMs that are already partnered with the COCO ecosystem. The device SDK's enable devices to interact and communicate with each other on the COCONet (the COCO network), irrespective of the IoT protocol or operating system used. It lets the end-user create a private ecosystem of devices that can work exclusively for the family of products and devices. It allows you to build multi-device networks enabled by dynamic node management, remote and offline access.

So the CSP's FWA/broadband routers, set-top boxes, smart home products, cameras, health devices, electric vehicles, asset trackers, kid's watches and more can all work in a unified network. In addition to the device SDK, COCO also provides Client SDK that further simplifies the development of any front-end applications that need IoT communication within the COCONet. Apps built using the Client SDK can interact with IoT devices in real-time with low latency. No separate software is required for offline-online synchronization.
Encrypted Ready-to-Launch Home Automation Kits
Building fully functional home automation kits from scratch is a capital-intensive proposition, increasing the time to reach the market. COCO has a ready-to-launch, interoperable evaluation kit that could be integrated with other existing smart devices such as lights, television, doorbell, cameras, and so on. They are available in two modular packages catering to different geographies. They come with built-in encryption, further providing data security.
Smart Home Bundles
COCO has a large variety of certified, well-tested, and validated devices to offer. They are available for whitelabelling too. These smart devices Buzzed on COCO are also interoperable with over 2000 Zigbee, Z-wave, BLE, and other wireless devices such as Alexa, Yale, Fibaro, Samsung Smart Things, Phillips, and so on.
Bundling Customized Smart Home Solutions with COCO
The wide selection of devices allows you to create your own customized bundle. However, to reduce the time to market, we have some ready-to-go bundled devices as smart home solutions. All these bundles include an IoT gateway that is 'Buzzed on COCO'.
For Connectivity
It lets you connect with everything smart. All these devices interoperate with Zigbee, Z-wave, WiFi and LTE devices. With COCO Home, a single unified app allows end consumers to connect even the car with the connected home. It is built on the COCO architecture which at its core is designed for privacy and security.

This bundle includes the car OBD dongle, security camera, motion and window sensor.

Security & Comfort
This bundle is developed to solve security challenges of a smart home consumer. It provides visual intelligence to identify new faces with low latency. It caters to provide intelligent security. For LAN-only operations, the consumer does not need to depend on the cloud that challenges data privacy. It serves best for assisted living, monitoring the elderly, and those who choose security with remote connectivity.

Devices included in this are security keypad, panic button, indoor camera, smart siren, window, and motion sensor.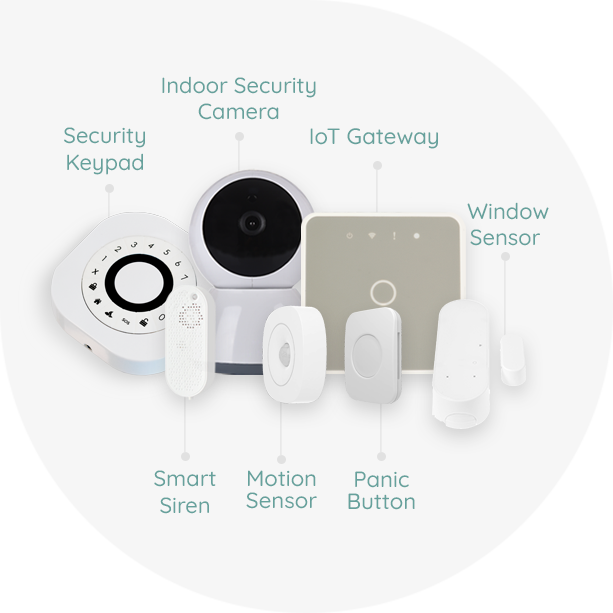 Intelligent Energy Management
This Zigbee Smart Energy compliant bundle is culled to deliver non-intrusive load monitoring and personalized conservation recommendations by AI-based Energy Assistant. CSPs and their customers get access to a real-time dashboard with Smart Zones management.

The conservation bundle includes a smart relay, triple 3-phase meter, a smart switch, a smart plug, and an energy meter interface.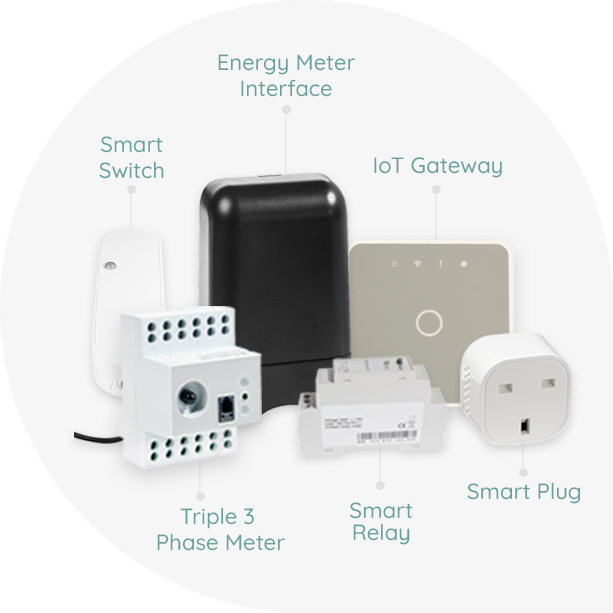 Smart Safety Solutions
This bundle designed for convenience covers fire detection, water leaks, and volatile organic compounds (VOCs) detection. End consumers can manage front door visitors and configure alarms with local and remote push notifications.

This bundle includes video doorbell, humidity sensor, air quality sensor, water leak sensor, heat alarm, and smoke alarm.
Bring your own device or choose from the catalog
Choose what suits you. COCO provides flexibility to CSPs in building their own solutions apart from those listed above. You can bring your own hardware and use the COCO software. Or, choose hardware from our catalog and bundle it with our COCO software.